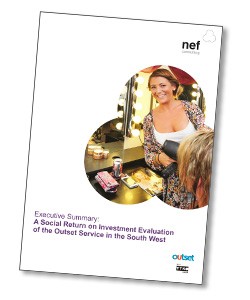 In late 2014, NEF Consulting, leading experts in the field of impact assessment, spent two months evaluating Outset Services in order to assess the social return on investment (SROI) delivered by our award winning, not-for-profit service.
Key SROI highlights include:
Over £38.5 million of social, economic and financial value created throughout the South West
£22.6 million + gross value added back into the UK economy
49% of all previously unemployed clients entered self-employment compared to the national baseline of 11%
One business is created for every four clients that receive 12 hours or more support
We've helped create an average of six new businesses every week for the last five years
NEF Consulting have also stated that due to the conservative approach they adopted in their analysis, the total value and impact delivered by the Outset service is likely to be significantly larger, and that the SROI ratio of £3.36 should be interpreted as the minimum impact Outset creates.
Unlike other methodologies, which simply focus on cost savings, an SROI approach takes into account the full range of impacts delivered by a programme, including those that are often considered intangible or hard to measure, like client wellbeing and quality of life. As a result, this evaluation considered the overall impact that an Outset service makes to its clients, the State and the wider economy.
View Outset's SROI evaluation
For more information about Outset's SROI, to request a copy of the report, or to find out how we can work with you to support your community goals, contact us at info@outsetcic.co.uk