The groups we work with have often been portrayed as difficult to engage and resistant to change. Our experience has found the opposite: most people are highly motivated to change their situation but aren't sure how to do it.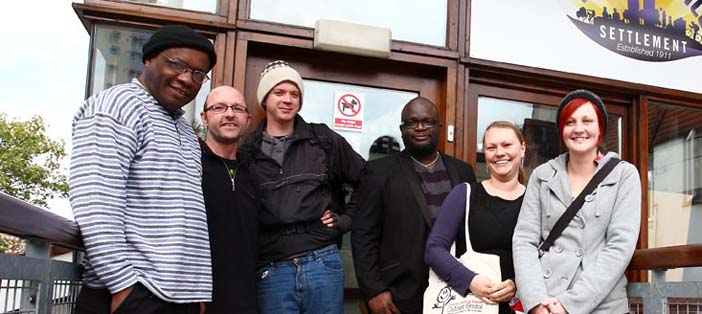 Our braided approach
There are three main strands of engagement activity we undertake, braided together for maximum impact:
Grassroots, community outreach activities from our local teams
Referrals through a range of local partner organisations
Effective tailored marketing communications
Combining these three elements successfully increases awareness and achieves a high level of participation, especially from those furthest away from the labour market.
Reaching out
Outreach activities ensure we meet people in their own environments where they are most comfortable, rather than dictating the terms of engagement to them. We pride ourselves on taking a unique approach by working with a diverse range of local community groups such as community centres, local football teams and charities to deliver enterprise awareness events and training.
Working in partnership
We have extensive experience and an excellent track record of successfully working with a wide variety of partners, even when setting up in new locations.
Our local teams quickly establish and grow credible and productive relationships with all key partners relevant to the programme, enabling us to establish a two-way referral process to support entrepreneurs both immediately and in the long-term. This web of relationships maximises the support available to the client without duplication or overlap.
Getting the message out
To reinforce our outreach activities and partnership working, we use effective, targeted marketing communications.
Our communications cover a range of traditional and digital media, including radio advertisements with direct response SMS facilities, PR, bus and washroom advertising, stands at job fairs and community events, as well as online and email marketing, and social media such as Facebook and Twitter.
We also distribute a range of printed leaflets, posters, postcards and flyers in community locations, hospitals, shopping centres and job fairs.