Stu Williams – Redruth Community Radio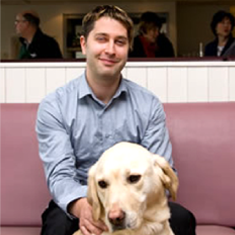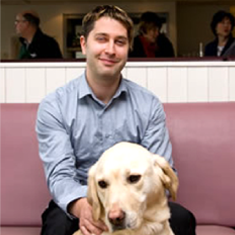 Stu Williams lost his sight when an operation left him unexpectedly visually impaired. Outset Cornwall helped him to launch a community radio station, creating new employment opportunities and improving community integration.

After struggling with unemployment for five years, Stu came to terms with the new challenges posed by his impairment: "Living with a visual impairment means that paper work and things like that, especially figures, are very difficult to deal with."
As a keen DJ, Stu wanted to explore the idea of becoming self-employed but didn't know whether it was possible:
"I had previously gained some experience working in community radio, having done some volunteering with Source FM in Falmouth. This enabled me to experience firsthand how volunteering on community radio really could change someone's life, so I decided to replicate the model in my home town of Redruth."
After speaking to Outset's Enterprise Coach Pam Sekula, Stu began to explore the idea of using his skills to launch a social enterprise. Pam said: "We looked at entrepreneurial skills; we started discussing the viability of becoming a DJ and [the] feasibility of how he was going to become mobile and overcome his disability."
With Pam's encouragement, Stu enrolled on Outset's Introduction to Enterprise programme. The course is designed to help beginners get to grips with the challenges of starting a business from scratch and build the individual's self confidence.
With an emphasis on inclusion, Outset staff are equipped to deal with clients that have an impairment. As Pam explained: "If someone has a barrier to participating, you have to find some solutions. We had to make sure the equipment he had was able to decipher what was in the session."
Stu found the team's approach vital to helping him succeed: "Outset are absolutely brilliant at dealing with [my impairment]. They email me all the information prior to the sessions so that I had all the information to hand. I was then in the same position as everyone else on the course."
As the course progressed, Stu found himself growing in confidence with the new skill set he had accumulated among a group of like-minded entrepreneurs:
"Coming from a background of somebody who had never been in business before, joining the program was brilliant. There was a big mix of people on the program – building that team, being with other people and learning those skills about how to develop a business was very important to me."
In late 2010, Pam sent Stu information about securing a licence from Ofcom. Fast forward two years and the station hit the airwaves after being granted an FM licence. (Until Feb 2013, the station had only been available online).
Now in 2014, Redruth Community Radio station has grown exponentially and now boasts thirty live shows involving over fifty volunteers with their youngest member being an eleven year old presenter. Stu also has the support of a central business unit including his day-to-day manager and an administration team.
Stu really valued the one-to-one mentoring that he had received from Pam: "Spending time with Pam, my development worker, she saw the potential in me to be a social entrepreneur, and that my business idea should go down the route of a social enterprise rather than a self-employed business."
Whatever your business idea is, Outset has the knowledge and experience to make it a reality.