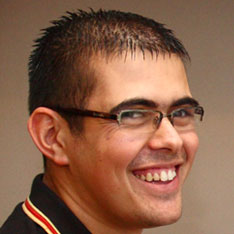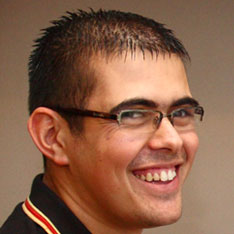 Before starting his Outset journey, Chris was working part-time in a pizza takeaway as well as studying for a degree in web design.On completion of his degree, he knew the job market was bleak. However, after hearing about Outset through a friend, he was motivated to take matters into his own hands.

"Outset was the inspiration I needed for me to take that big step forward and actually get the ball rolling and get my business off the ground," says Chris. "While many people are finding it hard to get jobs I thought it would be the perfect opportunity to get my business started. I knew that I had found the help and support I needed to succeed."
Chris attended Business Start Up workshops, delivered in his local community at the Anglo-Iranian Society headquarters. He also received one-to-one coaching with an Outset Enterprise Advisor.
"The advisors who taught me during my time at Outset Bristol have done a fantastic job at getting the information across in a non-complicated way that was understood by everyone, even the people whose first language wasn't English."
The free support Chris received from Outset meant that he could be confident that he was launching his business from a firm footing, armed with the tools he needed to make his business a success.
"I'd like to thank the whole Outset team for helping me establish my company and myself. It feels so good to own my own company and it's now become my little baby who I hope to see grow and grow."
Now in 2014, some 6 years since conceiving the business, Chris has amassed an impressive portfolio of work for a number of multinational business. These include LGV Transport Training, Transparency Solutions and Personal Best.
Chris has also returned to Outset on a number of occasions to 'give back' to other budding business owners. Giving up his own time, Chris has run an 'Ask the Expert' event for other clients who are already trading, giving them the opportunity to learn more about the importance of web design for their businesses.
As for the future, Chris says: "I still have a dream of getting my own premises set up but it has to be at the right time – when the business really needs it!"