Sophie Dialkova – The Palm Tree Yoga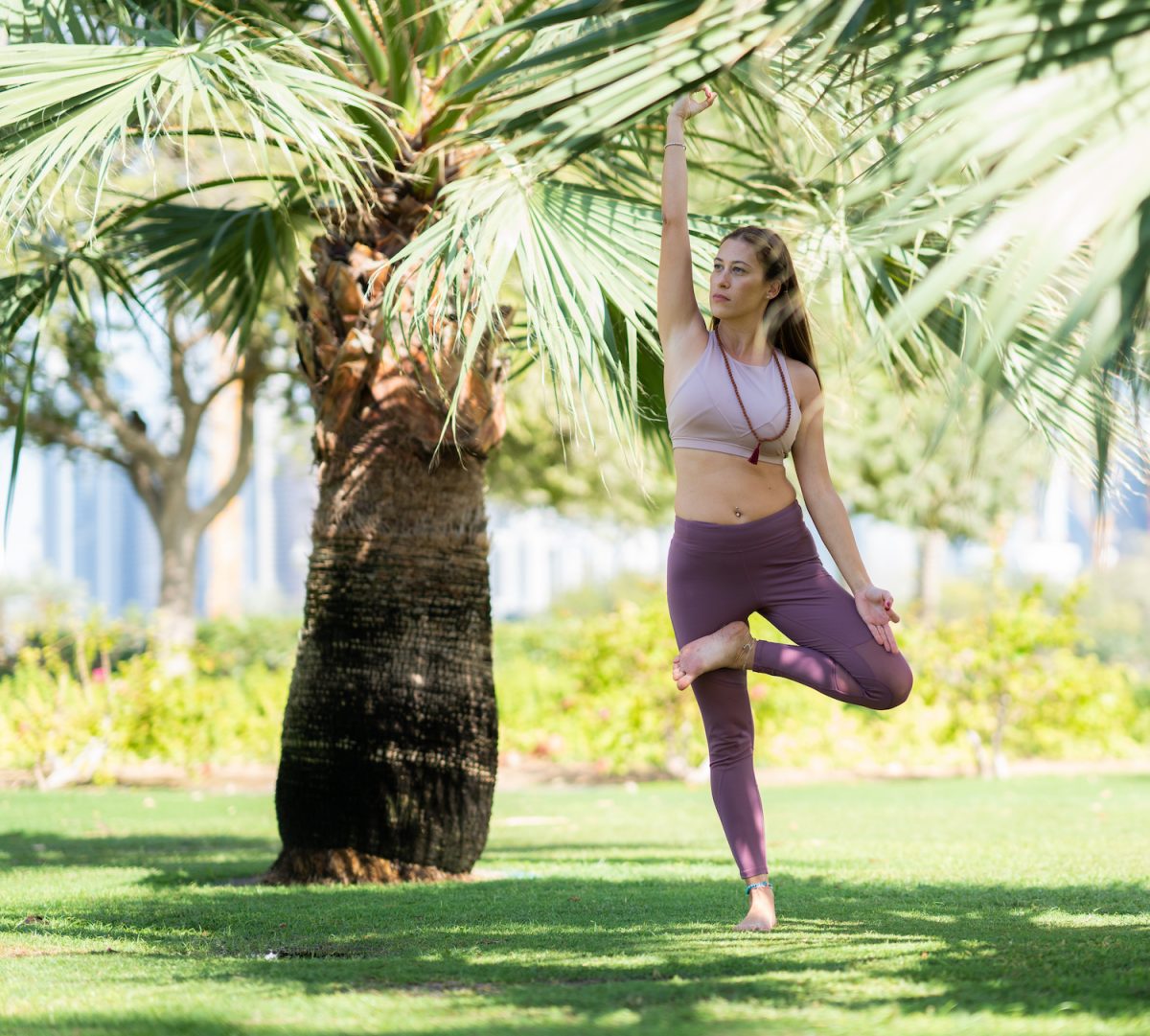 Originally from Hungary, Sophie Dialkova spent half her childhood in Austria, which meant that she spoke fluent German. Her aptitude for languages led her to study Translation Studies and she became a language teacher, working in a range of places, including the Middle East. However, a passion for yoga and wellbeing inspired Sophie to set up a new business when she found herself living in Devon, not knowing anyone and unemployed.

Sophie tried yoga a few times, first in 2006 in Scotland, in a cold and dark room at the Student Union and then a few years later in Austria and again in England in 2010. However, she didn't really start practising it regularly until she moved to Dubai, to teach German. For a time, it was running that she enjoyed most, completing a half marathon and triathlons but the popularity of yoga in Dubai meant that Sophie soon started practising again. "I was finding the running scene to be too competitive and was looking for a way to exercise, mentally and physically, in an environment that was not pressured," said Sophie.
Having visited Bali on a yoga retreat Sophie started to plan her future. She enjoyed working with children but wanted to find a way to be involved in more flexible learning which incorporated mindfulness and non-competitive movement, which was a view shared by her fiancée Alan. "We wanted to focus on the non-academic side of education," said Sophie.
After completing her training as a yoga teacher for adults and children, Sophie started to teach her pupils in school which they thoroughly enjoyed. One of Sophie's major achievements was to implement a yoga curriculum for students aged 10-14, which saw students practise yoga and mindfulness weekly. She also began running yoga sessions for families, teachers and children in her local community.
When their teaching contracts ended in Dubai, Sophie and her fiancé Alan, moved to Plymouth, which was Alan's home city and where he had located a new teaching job. Finding herself unemployed, Sophie started to develop plans to start her own business and carried out research on business support organisations. This led her to meet members of the Outset team who provided her with the training, advice and mentoring for the initial stages of her business start-up, as well as introducing her to the Accelerating Women's Enterprise team.
Sophie participated in the start-up workshops, where she learnt about cash flow, business planning and digital marketing. She then extended her knowledge with more in-depth workshops. "Whilst I gained a huge amount of business insight and knowledge, the two biggest things that I gained from participating in the support programme were the friendships that I have formed with people that I met. Also the positivity and enthusiasm towards my business that I have received from Outset and AWE, which boosted my confidence," she stated.
Sophie continued, "Some of the most useful parts were the 1:1 sessions where I received tailored advice for my individual business. This also helped my advisor to gain a better understanding of the ethos behind my business which is to create a positive, kind and educational yoga and wellbeing environment for all levels and all ages."
Having started providing yoga classes at a studio in Plymouth, Sophie registered her business in October 2019 and week by week, the number of attendees increased. She also started to provide yoga for staff and pupils at Alan's primary school as well as corporate yoga.
"At this point I had an Instagram page but not many followers and I didn't really promote it. Outset encouraged me to set up a Facebook page as more of my target audience were using this platform, which linked with my Instagram page," explained Sophie. "It was a steady process to gain followers, but it has proven useful to connect with other yoga teachers and new clients" she continued.
In March 2020, the first lockdown of the COVID-19 pandemic hit, which had an impact on her ability to deliver yoga classes in the studio. However, with the support of the AWE team, Sophie found yet again encouragement and transferred to an online provision which was popular with her regular clients.
Where possible, Sophie provided yoga outdoors through the summer months, mainly to adults as schools were closed. Venues included a café overlooking Plymouth Hoe where breakfast was included – all outside in the beautiful sunny weather. A business connection made through social media, helped Sophie to start running classes at Ocean Studios, at the Royal William Yard which she describes as "a beautiful venue with plenty of space, light and atmosphere."
Her classes attract a range of people – beginners, groups of friends, students, mums and daughters, couples, families, retired people looking to try something new as well as keen cyclists and athletes. "One thing that I have learnt on my business start-up journey is the importance of word of mouth which is amplified on social media,"stated Sophie.
When asked about the main challenges of setting up a business, Sophie responded, "When I moved to Plymouth, I didn't know anyone, I was unemployed, and I didn't know how to run a business. While my excitement levels were high, I didn't know how or where to start." Support from Outset & AWE enabled Sophie to gain the skills she needed from a practical and an emotional point of view.
Due to the support she received, Sophie was able to present her business at the South West Business Expo in 2019, reaching out to other businesses and building her network of contacts.
As lockdown continues, Sophie is continuing to provide yoga sessions through Zoom, and she has adapted her timetable to fit with the change in people's lives as they are now busy with home schooling and remote-working. She does however say, "I would 100% recommend Outset & AWE and have already done so to some of my fellow local businesses – one is booked onto an AWE course already. I would not be here doing what I love if it had not been for Outset & AWE."
Looking forward, Sophie would love to return to delivering yoga in schools as well as classes in person at the venues she worked at previously including outside in the sun!
"I would love for my business to become a space where people can come together and practise yoga, whether that is online, in a studio, in schools or on a beach. I could see the business operating from anywhere in the world bringing communities together through movement and healthy food, maybe a yoga studio and a vegan café under one roof."
For more information about Palm Tree Yoga visit www.thepalmtreeyoga.com